Hours
Wednesdays through Sundays
10:00 a.m. to 5:00 p.m.
Thursdays until 8:00 p.m.
December 2023 Holiday Hours:
We will be closed Saturday, December 23 through Tuesday, December 26. We will reopen with our usual hours on Wednesday, December 27.
Admission
Seniors (62+)
Youths (3-18)
$4
Families
(up to 2 adults and 4 youths)
$12
Children (2 and under)
UO students, faculty, staff*
MNCH members
Veterans and active-duty military*
Free
OREGON TRAIL AND OTHER EBT CARD HOLDERS
The museum offers discounted admission to visitors presenting electronic benefit transfer (EBT) cards such as the Oregon Trail Card.
Individual: $1
Families: $5
Directions
1680 East 15th Avenue
Eugene, OR 97403
The museum is located on 15th Avenue, between the Knight Law Center and Global Scholars Hall, on the University of Oregon campus.
Bicycle racks are available at the museum's main entrance.
Plan your trip on public transit using the LTD interactive route planner.
Limited free parking is available during your visit in UO Lot 34a. Please call 541-346-3024 for details. Learn more about parking at the University of Oregon.
Our exhibits are fully wheelchair accessible. A wheelchair is available for visitor use on a first-come, first-served basis.
Parking
The museum is located in the middle of the vibrant campus of the University of Oregon. Drivers to campus should expect to pay for street parking at a meter or via an app.
The museum has a small parking lot labeled 34A on campus maps. To park in this lot, including in the ADA spots, please park in the lot and immediately enter the museum to request a parking pass.
Metered street parking is available on 15th Ave, and free, time-limited parking is available a few blocks' walk from the museum.
On weekends without sporting events, university parking lots are available free of charge. For more information about parking on campus, click here.
Museum Store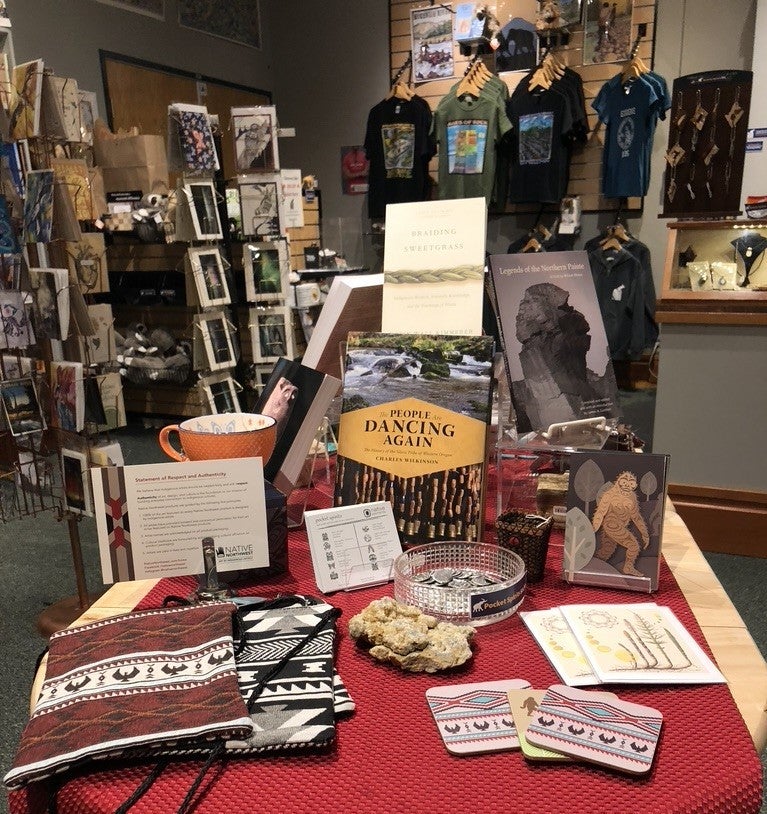 Make a difference when you shop. Each purchase at the museum store directly supports museum education programs that inspire Oregonians all around the state. 
We feature science gear for kids and adults; items crafted by local, Native, and regional artists; Northwest-focused books and field guides; and much more. Admission to the store is always free. Learn more.