A museum adventure to go! In 2020-2021 we proudly distributed more than 26,000 pre-packaged Museum Connection Kits, helping families in every corner of the state access hands-on learning adventures, museum-style! The bilingual English-Spanish materials from those kits are now available for FREE to libraries and other community organizations to download and create their own take home activity kits. The online program videos can also be accessed and shared for free.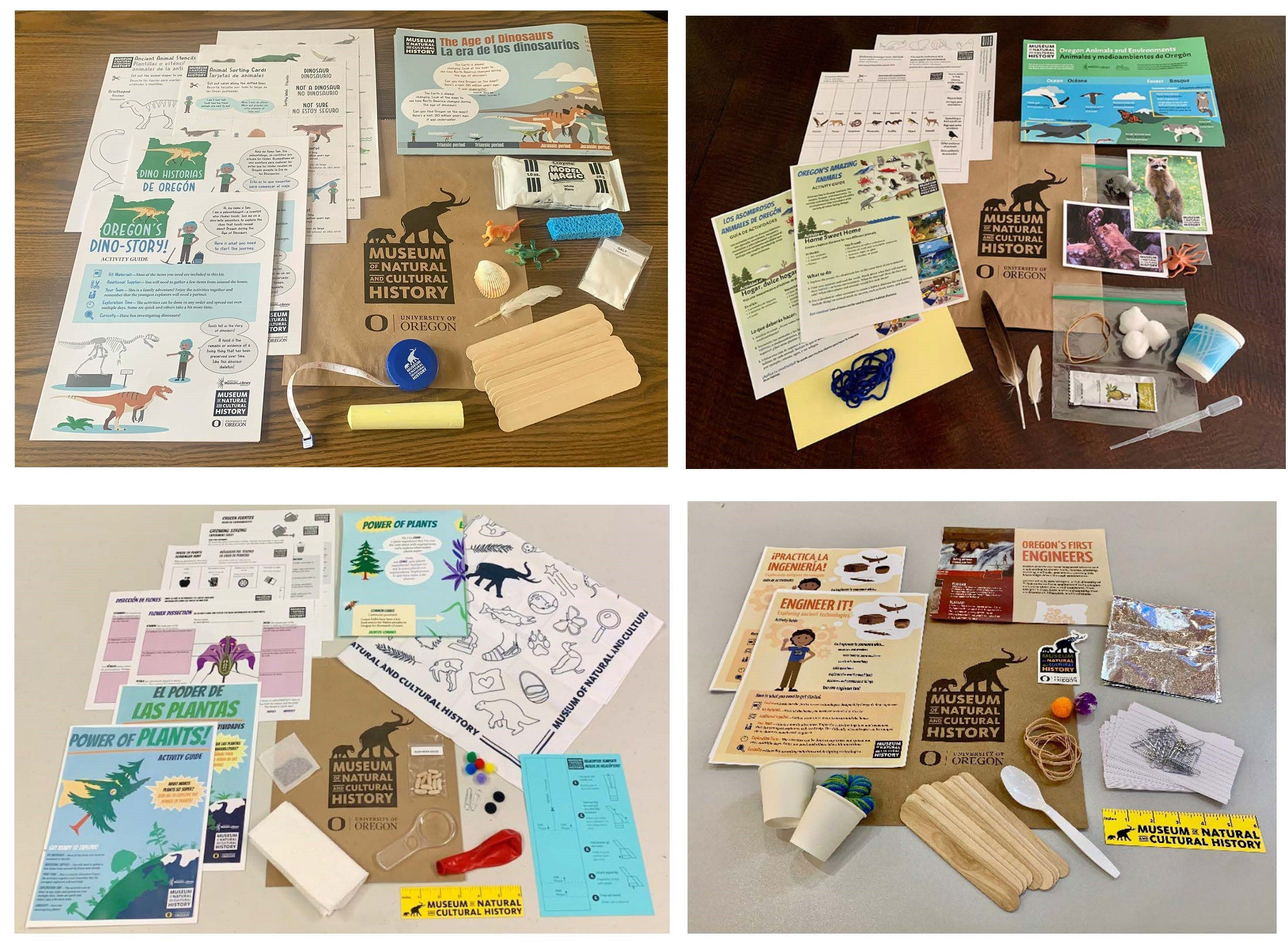 How to Use
Body
The Do-It-Yourself (DIY) guides are designed to help you create your own Museum Activity Kit for your community. From supplying all the activities pages and materials to simply sharing some of the resources online, there are options for every need you might have.
Suggested ways to provide activities and materials to youth and families in your community:
Full Size Museum Activity Kits: Print the full Museum Activity Kit guide and supporting materials. Provide the main activity supplies needed for all the activities.
Individual Activity Kits: Print the activity pages individually to be used for packing smaller take home activity kits that include one or two activities and the necessary supplies.
Online: Provide families with a link for visiting the program video and finding all or some of the activities online. Activities can be downloaded and posted so they are shareable from your website or social media channels.
In-Person Program: Choose a few activities to do in-person onsite at your library, show the program video, and distribute one or two activities as a take-home kit for families that attend.
DIY Activity Kit Guides
Body
Select from the four kit topics below. All activity pages are Spanish/English bilingual.   
Request your free downloadable kit materials by topic and receive immediate access to the DIY Museum Activity Kit Guide and all related resources.
Oregon's Dino-Story

Join us for a dino-mite adventure! Families can uncover mysteries about Oregon's dinosaur story, exploring the clues that fossils reveal about our state during the dinosaur age. The Dino-Story kit program is made possible with support from the Institute for Museum and Library Services and The Ford Family Foundation.

Oregon's Amazing Animals

From tiny horses to giant sloths, discover the incredible variety of life in Oregon, both past and present. Through fun, hands-on activities and experiments, families can explore adaptations that help animals survive and thrive in diverse habitats like oceans, forests, and rivers. The Amazing Animals kit program is made possible with support from the Institute for Museum and Library Services and the Wayne Morse Center for Law and Politics.  

Power of Plants 

Where would we be without plants? From the air we breathe to the foods we eat to the clothes we wear, plants provide essential ingredients for our survival. Join us for this science adventure and celebrate the power of plants through experiments, crafts, and other hands-on fun! The Power of Plants kit program is made possible with support from the Institute for Museum and Library Services. 

Engineer It! Native Innovations

Build a shelter, design a boat, weave a basket, or invent a tool! Native Americans have long used science and engineering to develop tools, homes, clothing, cooking methods, and more—passing this knowledge down through generations. Many of these innovations are still being used today! Try out your own engineering skills while discovering technologies designed by Oregon's first engineers. The Engineer It! kit program is made possible with support from the Institute for Museum and Library Services. 
Program Videos
Body
Each program includes a lively video presentation featuring interviews with scientists or other experts plus an introduction to the hands-on activities. Videos can be viewed by participants at home or shown during a virtual or in-person program.
View the videos on Vimeo:
Publicity Toolkits
Body
You can download and customize our free publicity tools to help spread the word to your local families. Follow the links below to find fillable event flyer, publicity photos, and original art for your newsletter, website, and social media accounts.